2 in1 vaginal tightening hifu machine face lift korea skin rejuvenation new hifu machine cartridge
Working principle
1.The Vagina Tightening HIFU System uses an noninvasive ultrasonic focusing technique to directly focus on the mucosal lamia and muscle layer. Using ultrasonic waves as the energy source and taking advantage of its penetration and focality, the system will send out ultrasonic energy focusing in the the lamina propria and muscle fiber layer in a predetermined depth. A higher intensity of ultrasonic region, called focus region, is formed. In 0.1 second, the tempreture of the region can reach to above 65 ℃ , so the collagen is reorganized and the normal tissue outside the focal region is undamaged. Therefore, the desired depth layer can obtain the idael effect of collagen contration, reorganization and regeneration. Ultimately, the mysterious effect of vagina tightening is achieved.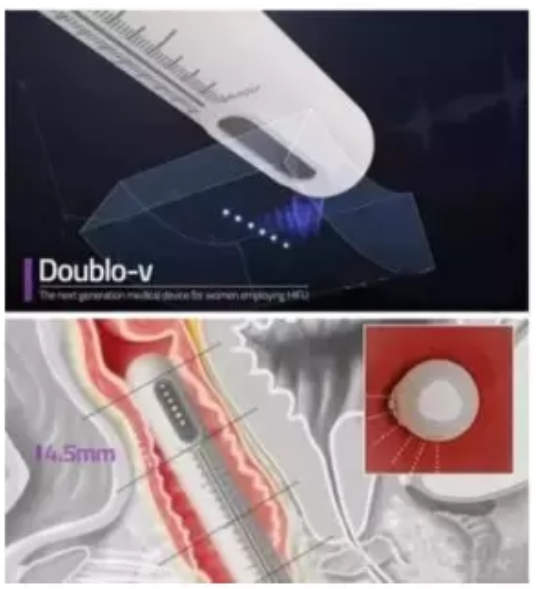 2) Facial HIFU system
1.5mm head ---the ultrasound to penetrate the skin to a depth of 1.5mm,is responsible for activating the skin epidermis in thinner tissue. such as eye zone.

3.0mm head---the ultrasound to penetrate the skin to a depth of 3.0mm,is responsible for activating the skin's dermal layer of collagen, effectively enhance the effect of the consolidation of the outline, but also improve large pores and reduce the appearance of wrinkles. targeted to chin, chest.

4.5mm head--- the ultrasound to penetrate the skin to a depth of 4.5mm, direct subcutaneous SMAS layer, targeted to thicker skin, such as cheeks, neck, etc.
Advantage
1.The system uses the latest advanced technology called HIFU, short for high intensity focused ultrasound.
2. The equipment has two kind working heads for different operational effect:
- 3.0,4.5 mm is for Vagina Tightening
- 1.5,3.0,4.5mm is suitable for Facial Tightening
3. It will produce thermal effect to the dermal collagen fibers and stimulate the fat layer and SMAS. The result is far better than RF.
4.The skin will be lifted and tightened at once, and effect will last for 12-24 months.
5. There are no post-surgery down time and you can resume your normal activities immediately.
6. Easy to control and operate, no consumables, cost-saving.
Features
1.Enough penetration depth, powerful firming
2.No pain,no vacation period
3.Savely,one head foreachperson to avoid cross-infection
4.Precise depth adjustment system